Generate Your Own Power -
Members must contact HEC at solar@holstonelectric.com before signing any contracts.

All Residential Installations of Solar on Holston Electric Cooperative's System MUST be completed TVA's Green Connect Program.

A Green Connect Interconnection Application, Interconnection Agreement, Metering, and Parallel Operation Agreement must be submitted and approved prior to construction to ensure safe operation.  Please contact solar@holstonelectric.com prior to signing any contracts or beginning construction.
Holston Electric Cooperative continues to field more and more questions about solar. Is solar right for me? Can I save money by installing a solar energy system? Are there tax credits for solar? These are all great questions and we encourage our members to call and talk to us when researching their renewable energy options.
We encourage our members to start with energy efficiency. Before installing a solar energy system, consider reducing your energy use by making your home more energy efficient. Many energy efficiency measures have a fast return on investment. Adding insulation and sealing your home can be one of the fastest and most cost-effective ways to reduce energy costs.  
Purchasing a solar array can be a big investment, and we want our members to be informed so they can make the best decisions. As solar becomes more popular, fraudulent contractors prey on those who are unfamiliar with their product. Be sure to conduct thorough research on all aspects of any system before making the investment. As with any major investment get a bid from more than one installer. Below are a few questions you should ask when talking with a solar installer:
Ask for references. An experienced installer will easily be able to provide you with references of previous customers that are willing to share their experience.

Ask about the number of installations they have completed.

Are they NABCEP Certified? This is the National American Board of Certified Energy Practitioners. Professionals who choose to become certified demonstrate their competence in the field and their commitment to upholding high standards of ethical and professional practice. (Check for www.NABCEP.org for a list of installers)

Service. Are they local? If there are any issues, are they nearby to resolve them quickly?

Do they carry workman's compensation and liability insurance?

Are they licensed electricians and do all the work in house or do they subcontract the entire job?

Do they size the system properly? They should be able to present expected monthly output and compare that with historic monthly use. Don't hesitate to call us for your historic monthly usage.

Do they explain tilt, azimuth, or shade issues? These are all important factors in how your solar energy system will perform.

Beware of some "buy now, pay later" and solar leasing offers. Research them thoroughly as they could significantly increase your overall long term investment.
Holston Electric Cooperative's team of Engineers can help in the initial planning stages. We can provide you with your historical monthly energy usage, determine necessary safety equipment required for connecting your system to the grid and provide you with the cooperative's policies and metering agreement. Please call us at 423-272-8821 if you are considering installing a solar energy system.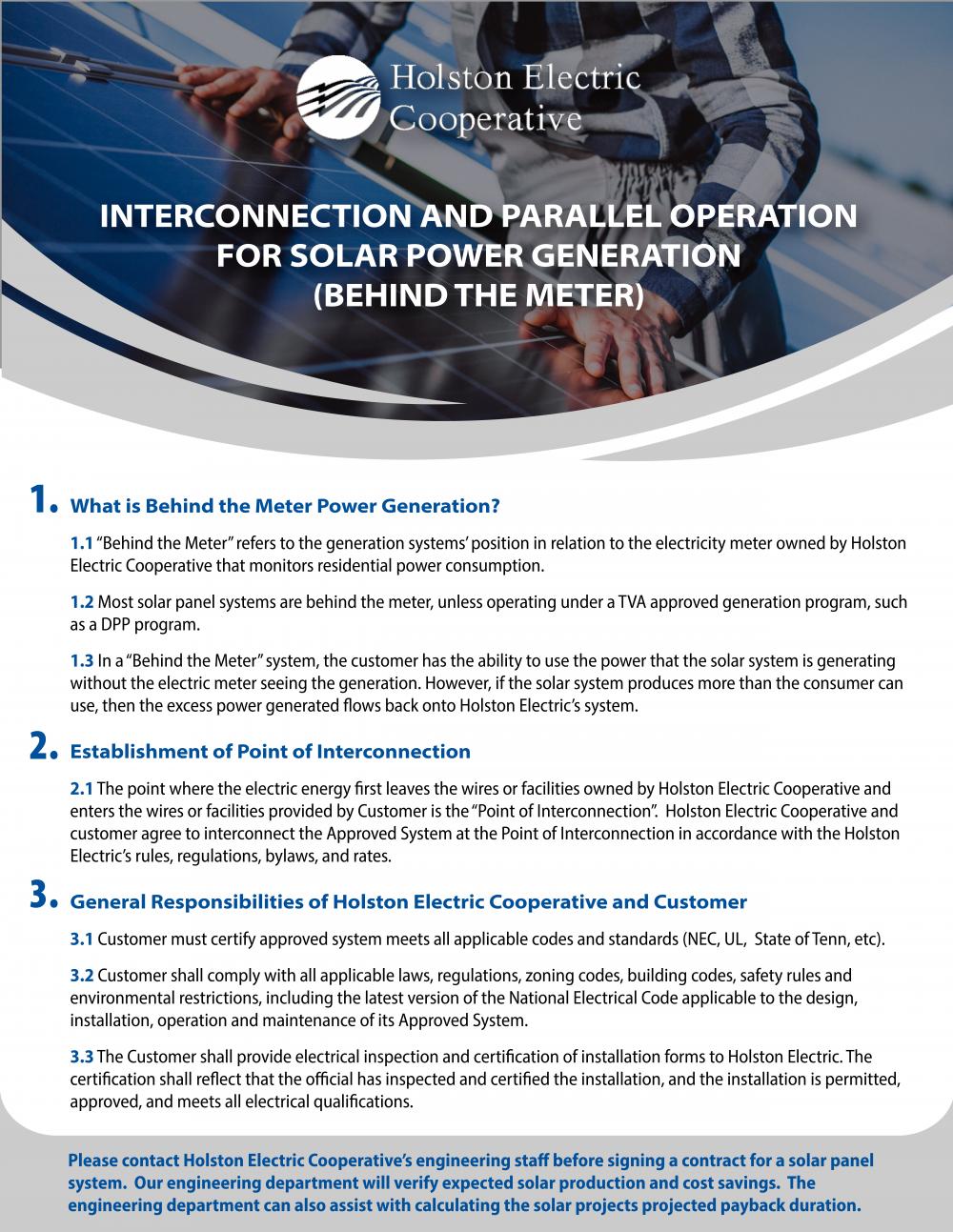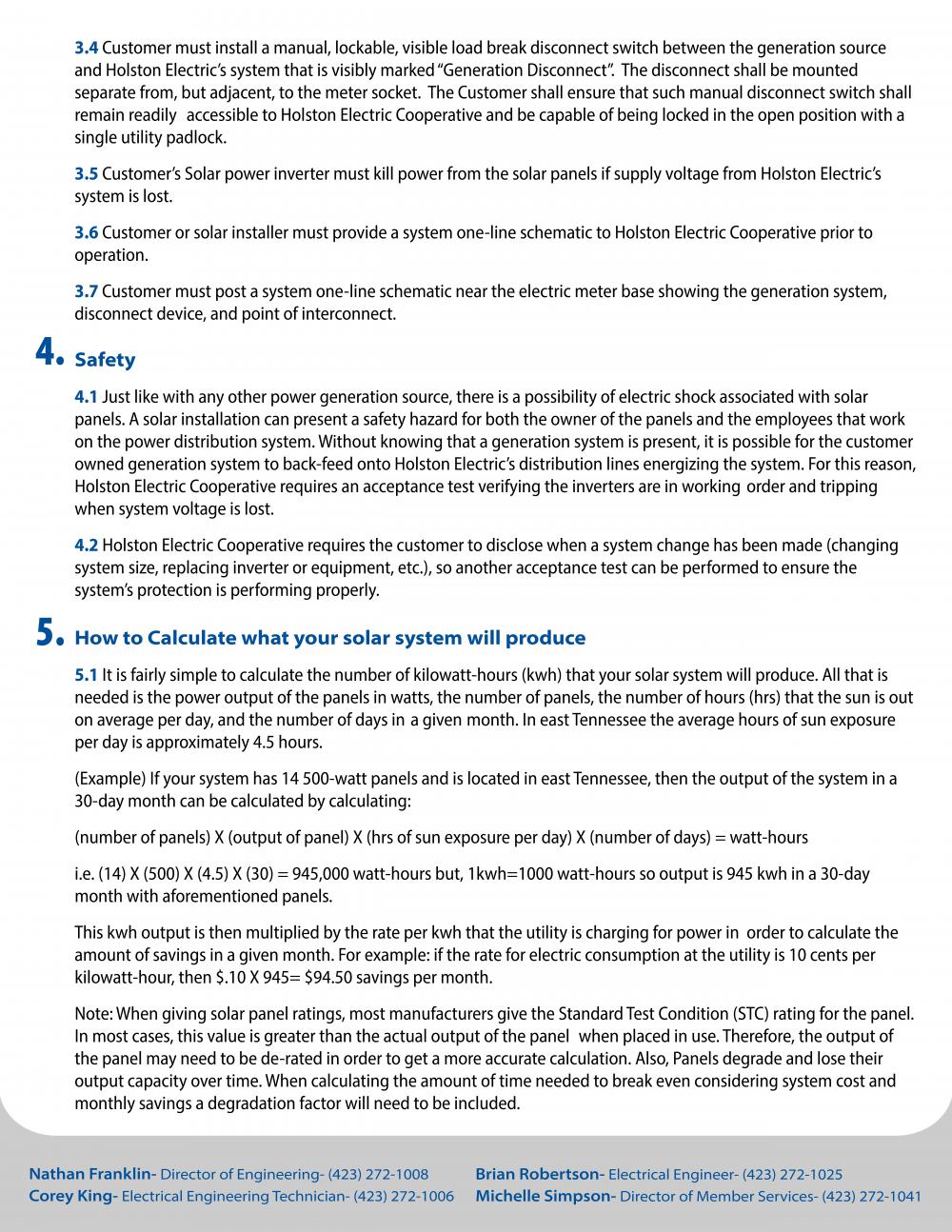 Considering Solar? The Tennessee Valley Solar Calculator tool can help you make an informed decision when considering whether or not to install a small-scale solar system. The solar calculator is intended to be used by residential and small business customers who want information on the true cost and payback of installing solar in the Valley.
Under TVA's Green Connect, Holston Electric Cooperative residential members may install a solar generation system.  
Any Holston Electric Cooperative, Inc. member planning to install solar is required to personally call or email Nathan Franklin, Director of Engineering at Holston Electric to discuss the planned installation.  Failure on behalf of the member to personally contact Mr. Franklin will result in the connection being denied.
Things to know:
TVA requires that your system installer hold at minimum the associate-level certification from the North American Board of Certified Energy Practitioners (NABCEP).
There is a monthly administrative fee of $15.00 once the system is online.
Member will be accessed an initial connection/trip fee of $60.00.
Other fees, including inspections and meter setting, shall be applied.
Members are required to purchase a general liability insurance policy in the amount of $500,000 naming Holston Electric Cooperative as holding the additional interest.  This may also be done through an added rider to homeowners' insurance.  A copy of the insurance policy must be provided to Holston Electric Cooperative prior to system completion, and the member is required to send renewals annually to Holston Electric Cooperative.
Aid to construction fees will be charged only if applicable, as some installations require additional equipment and/or work beyond the normal scope. Fees will vary depending on the amount of work and materials required.
The contractor completing the installation must notify Nathan Franklin, Holston Electric Cooperative's Director of Engineering, of the date for system start up at least four weeks prior.